Tronxy XY-3 SE Standard 2-in 1 Set Laser 3-in-1 Set 3D Printer DIY Kit 255x255x260mm
Ship from local warehouses see all
United States: delivery to United States
United Kingdom: delivery to United Kingdom
Brazil: delivery to Brazil
Germany: delivery to Europe
Canada: delivery to Canada
Australia: delivery to Australia
Russia: delivery to Russia
China: delivery to other countries
Delivery if you order today by 17:30.
Tronxy XY-3 SE 3D Printer, 3D Printing & Laser Engraving 2 in 1 Filament FDM 3D Printer with Smart Auxiliary Leveling, Printing Size 10.03'' x 10.03'' x 10.23'' & Engraving Size 7.48'' x 10.03''
About this Laser Engraving 3d printer:
【Version & Manual】 Version is a single-head + laser engraving version, manual is universal.
【Handle】 Newly added handle function, more user-friendly functions, making it convenient for users to carry, and more convenient to go out or carry.
read more
【Grid Glass Platform】 The newly upgraded glass platform makes the hotbed heat up faster, prints better adhesion, does not warp, easier to take the model, and the print quality is more refined.
【More Function】 Filament Detection, The sensor will pause printing and issue an alarm when the filament is insufficient, Resume Print, One click to resume from the last recorded position when suffering power outages.
【AFTER-SALE SERVICE】 TRONXY offers a lifetime technical support and will be able to respond within 24 hours and we will definitely provide you with satisfactory answers.
Product Details
XY-3 SE STANDARD: 3d printer, support one filament.
XY-3 SE 2-IN-1 SET LASER: 3d printer + laser engraving.
XY-3 SE 3-1N-1 SET: 3d printer + dual extruder + laser engraving.

All-in-one 3D printersWhile the additional single-nozzle dual-extrusion tool head allows for color-mixing and multi-material 3D printing. And laser engraver, you can create contrasting images on fabrics, leather, plywood and acrylic materials.
XY-3 SE Install Video
The 3D printer can print PLA, ABS and flexible filaments like TPU, and laser engraving and with WiFi connectivity. The portable and movable touchscreen used to operate the printer looks and acts like a smartphone, simplifying your workflow and making it easy to control and manage projects.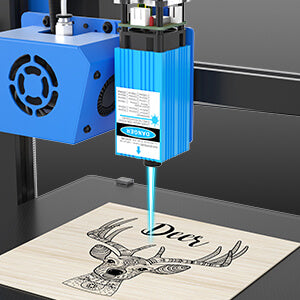 Laser carving
Laser carving can be printed on wood, cowhide, acrylic, bamboo, hard paper over 1mm, etc.
You can sculpt various patterns on the wall as decorations, put them into picture frames as gifts or DIY mobile phone cases, and so on. It has a wide range of uses, you can open up your imagination and make unique works of yours.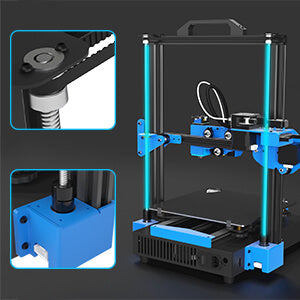 Double Z Axis & Timing Belt
Synchronous linkage of the double screw rods, the zero return error is smaller, and the operation is more stable.
Printing is more stable and printing accuracy is higher.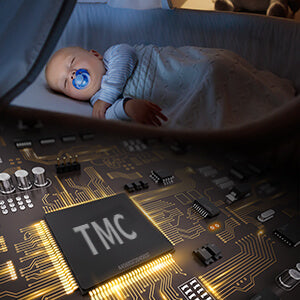 Silent Motherboard
The TRONXY XY-3 SE 3D printer has an upgraded silent motherboard and uses the TMC2225 driver chip to provide you with a quiet printing environment.
And XY-3 SE silent motherboard has a 30pin horn socket wiring design, which combines 30 cables to make the printer more concise and easy to operate.
Lattice Glass and TR Sensor
No Edge Curling: 3D printer coated glass bed, prints can stick on the glass bed firmly without glue, avoiding the issue of print edges curling. A necessary 3d printer upgrade accessory.
Excellent Flatness: Upgraded 3D printer glass plate provides more flat and more smooth build surface than magnetic mat or pei sticker, ensuring high flatness for the bottom of prints.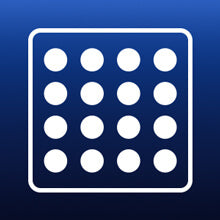 Lattice Glass
Lattice glass has high flatness, high adhesion, it is more convenient to take the model, and the cleaning is also very easy.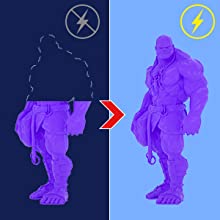 Resume after Power Failure
When the printer is powered off, you don't need to worry about wasting consumables and wasting time. As long as the power is turned on, the printer will continue to print.
Broken Material Detection
When the consumables are exhausted, the machine will send out an alarm to remind users that they need to add consumables.
Compatible with a Variety of Filaments
The XY-3 SE printer is compatible with ABS, PA, TPU, PETG, PLA and other filaments, and has a variety of filament material options.
XY-3 SE STANDARD- SINGLE TOOL HEAD Monochrome Model
Single head 3d printing color one flament 3d printing
XY-3 SE LASER ENGRAVING
XY-3 SE STANDARD + LASER ENGRAVING TOOLKIT SUPPORT ONE COLOR 3D PRINTING AND LASER ENGRAVING
XY-3 SE 3-IN-1 SET
XY-3SE STANDARD + DUAL COLOR EXTRUDER + LASER ENGRAVING TOOLKIT
TWO STEP QUICK INSTALLATION
XY-3 SE NEW UPGRADE I3 3D PRINTER
IT LOOKS A LITTLE DIFFERENT NOW.
NEW APPEARANCE DESIGN, WITH NEW PORTABLE HANDLE.
LOOK NEATER AND POSSIBLY MORE STYLISH.
DOUBLE Z AXIS + DOUBLE Y AXIS + TIMING BELT
XY Axis Positioning Accuracy: 0.00625mm
Z Axis Positioning Accuracy: 0.00125mm
MAKE STRUCTURE MORE STEADY
MAKE 3D PRINTING PROCESS HIGHER PRECISION
NEW UPGRADE TR SENSOR NEW AUTO LEVELING SENSOR
XY-3 SE with new upgraded leveling sensor black TR sensor. Compared with the old version of the blue sensor, the new one can support more types of platforms.
Lattice glass
PVC stickers
PC board
Metal material
Magnetc stickers
Lattice Coating Glass Removable Platform
DOUBLE COOLING FAN FOR PRINTER HEAD
Double Cooling
Double rapid prototyping
30 PIN INTEGRATED PLUG CABLE
ONE STEP IN PLACE INTEGRATED INSERTION
Watch More
How to Measure the Resistance to Check if Short Circuit for XY-3 SE?

How to Install the Adapter Board and Use the Software for XY-3 SE?


Tronxy XY-3 SE Standard 2-in 1 Set Laser 3-in-1 Set 3D Printer DIY Kit 255x255x260mm
XY-3 SE Standard / United States