Skip to content
---
Oversea Warehouse
By Express 4-12 business days delivery time
Fast Delivery
Arrange delivery on the day of stock
Fast Response
Quick one-to-one response
Save Money
Provide favorable program support
---
Shenzhen Baoyuanchuang Technology Co., Ltd.
We are located in Shenzhen, which has many high-tech industries and is known as "China Silicon Valley". We are the authorized retailer of Shenzhen Tronxy Technology Co., Ltd., the original manufacturer of 3d printer to sell their 3D printers, 3D printer accessories and materials online. Our products are mainly exported to Europe, North America, South America and Asian countries.

You can choose your favorite 3D Printer from our online store. We have lots of FDM 3D Printer models (i3 3D Printers, coreXY 3D Printers, Clay 3D Printers, Ultrabot 3D Printer and CNC Laser Engraver Marker40) to choose from our catalog. You can research, compare the features and specs, and select the right one as per your need.

We sell only from the original Tronxy manufacturer. This ensures our customers receive 100% original, authentic 3D Printer direct from the manufacturer's warehouse facility. All orders are covered by direct manufacturer warranty and support and shipping insurance.

We do ship to almost all parts of the world. We offer 100% free shipping to US states. All orders are processed quickly and safely from the original manufacturer's warehouse facility. We will process your order on top priority basis to ensure receiving the order on time.
Shenzhen Tronxy Technology Co., Ltd
Shenzhen Tronxy Technology Co., Ltd is a manufacturer of 3D printers. The company has a number of developers with rich experience in the field of electronic technology and strong research and development strength. In the development process, the company continuously designs and produces various new 3D printers, and the scale continues to expand. The employees of the company adhere to the principle of "progressive, realistic, rigorous and unity", they will constantly innovate, take technology as the core, regard quality as life, and regard users as the God, dedicated to provide you with high-quality 3D printers, high-quality engineering design and meticulous after-sales service.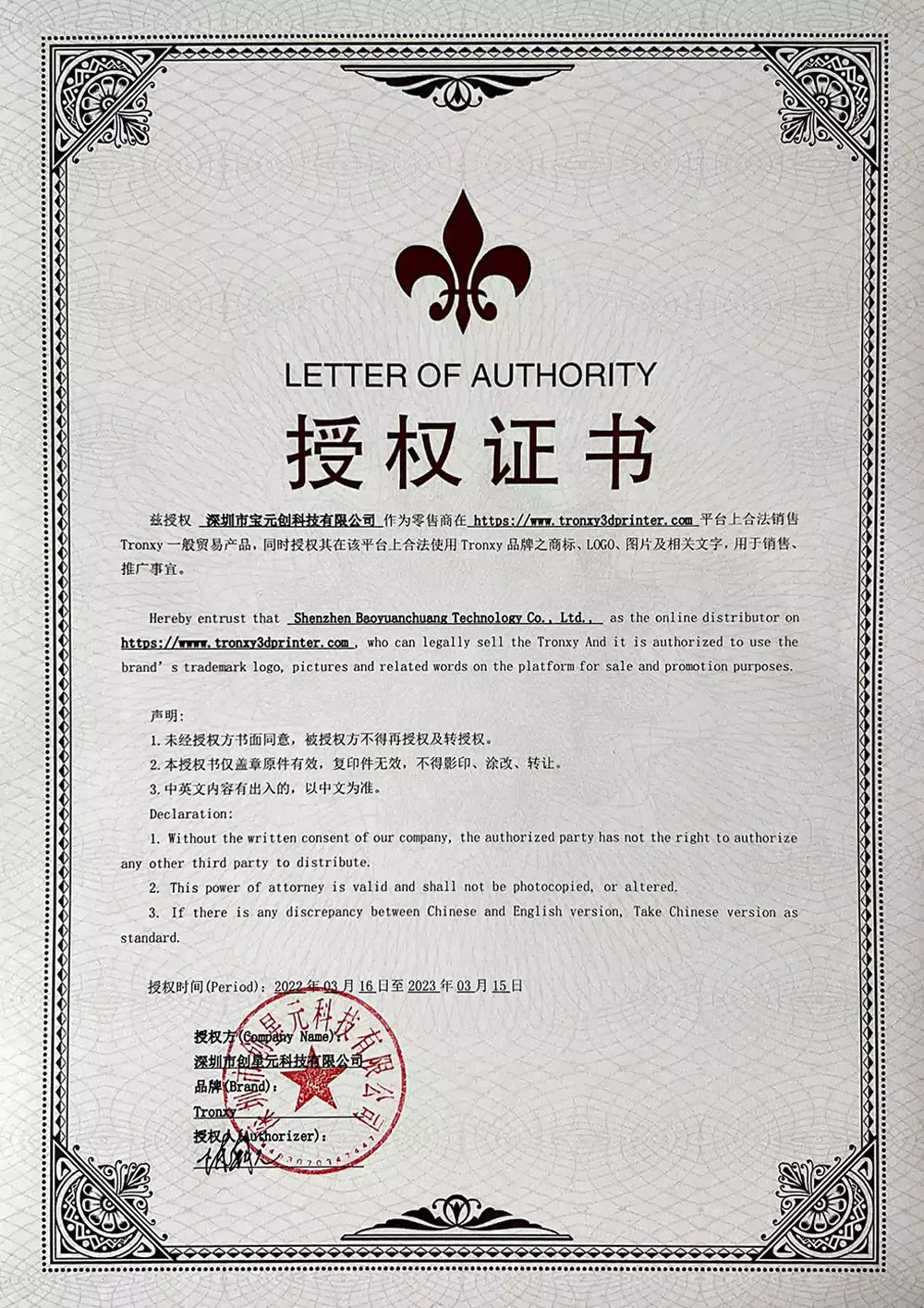 ---
---
---
Contact Us
Shenzhen Baoyuanchuang Technology Co., Ltd.
info@tronxy3dprinter.com
+0086 15919861155
Mon-Fri: 9:30 AM - 6:00 PM (UTC+8)
---
Sunday,Monday,Tuesday,Wednesday,Thursday,Friday,Saturday
January,February,March,April,May,June,July,August,September,October,November,December
Not enough items available. Only [max] left.
Add to Wishlist
Browse Wishlist
Remove Wishlist