Tronxy XY-3 Pro V2 Direct Driver 3D Printer Extruder DIY Kit 300x300x400mm
Coupon: $68 off code 68OFFNOW
Delivery
Ship from local warehouses see all
United States: delivery to United States
United Kingdom: delivery to United Kingdom
Brazil: delivery to Brazil
Germany: delivery to Europe
Canada: delivery to Canada
Australia: delivery to Australia
Russia: delivery to Russia
China: delivery to other countries
Tronxy XY-3 PRO V2 3D Printer in Direct extruder Configuration Guide Rail Double Z axis Flexible Filament Silent Mainboard 300x300x400mm Print Size, Direct Drive 3D Printing
About this direct driver 3d printer:
【Extruder】Upgraded dual-drive extruder, 3:1 reduction torque, high-precision extruder, sturdy and durable, suitable for 1.75mm flexible filaments, such as TPU/TPE, and compatible with other filaments , Such as the printing of filaments such as PLA/ABS/PETG.
【Newly Upgraded TR Sensor +Lattice Glass Hot Bed Board】Easier leveling and convenient mold taking, XY-3 PRO V2 is equipped with a newly upgraded level sensor black TR sensor, removable lattice glass plate, the sensor can support More types of platforms.
read more
【Adjustable XY Axis Belt Structure】Manual adjustment of belt tension: XY axis belt supports manual adjustment, only need to twist the nut, easy to operate, no need to remove the belt.
【Removable Print Head】 Simple installation design, easy to clean, disassemble or replace, and optional with other print head components (such as laser print head). FPC flexible cable design-the black FPC cable is integrated with the machine, neat and beautiful.
【AFTER-SALE SERVICE】 TRONXY offers a lifetime technical support and will be able to respond within 24 hours and we will definitely provide you with satisfactory answers.
Frequently Bought Together
Product Details
XY-3 PRO V2 using popular extruder, DIY extruder, it is dual drive extruder, supports PLA/ABS and other flexible filament, like TPU TPE, you will have wonderful 3D printing experience with this extruder.
Best Direct Drive 3D Printer 2021
300x300x400mm Building Size
99% Assembled Sheet Metal
Extruder for Flexible Filaments
Best 3d Printer - 3d Printer Model - Flexible Filaments
Specification:

Print size 300×300×400mm(11.81×11.81×15.74 inch)
Printing speed 20-150mm/s Suggest 60mm/s
Print Thickness 0.1-0.3mm (Optional)
Positioning accuracy X/Y: S0.00625mm Z: S0.00125mm
Nozzle diameter 0.4mm
Power supply Input: 110V /220V Output:24V 360w

Hotbed temperature Maximum 100℃(212℉)
Nozzle temperature Maximum 275℃(527℉)
Ambient temperature 8-40℃(46.4-104℉)
Environment humidity 20%-80%
File format .STL、 .OBJ
Operating software Repetier-Host.cura
Connection USB cable、 TF card
Resume print function YES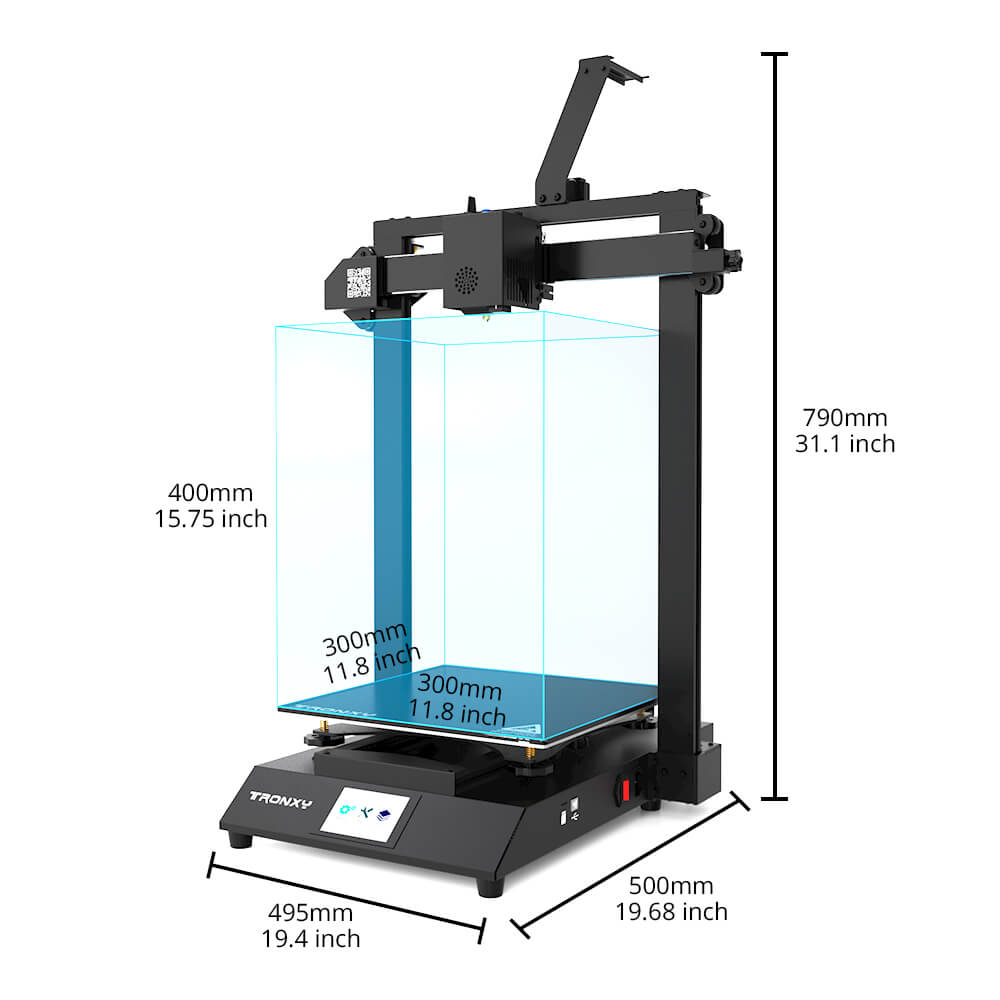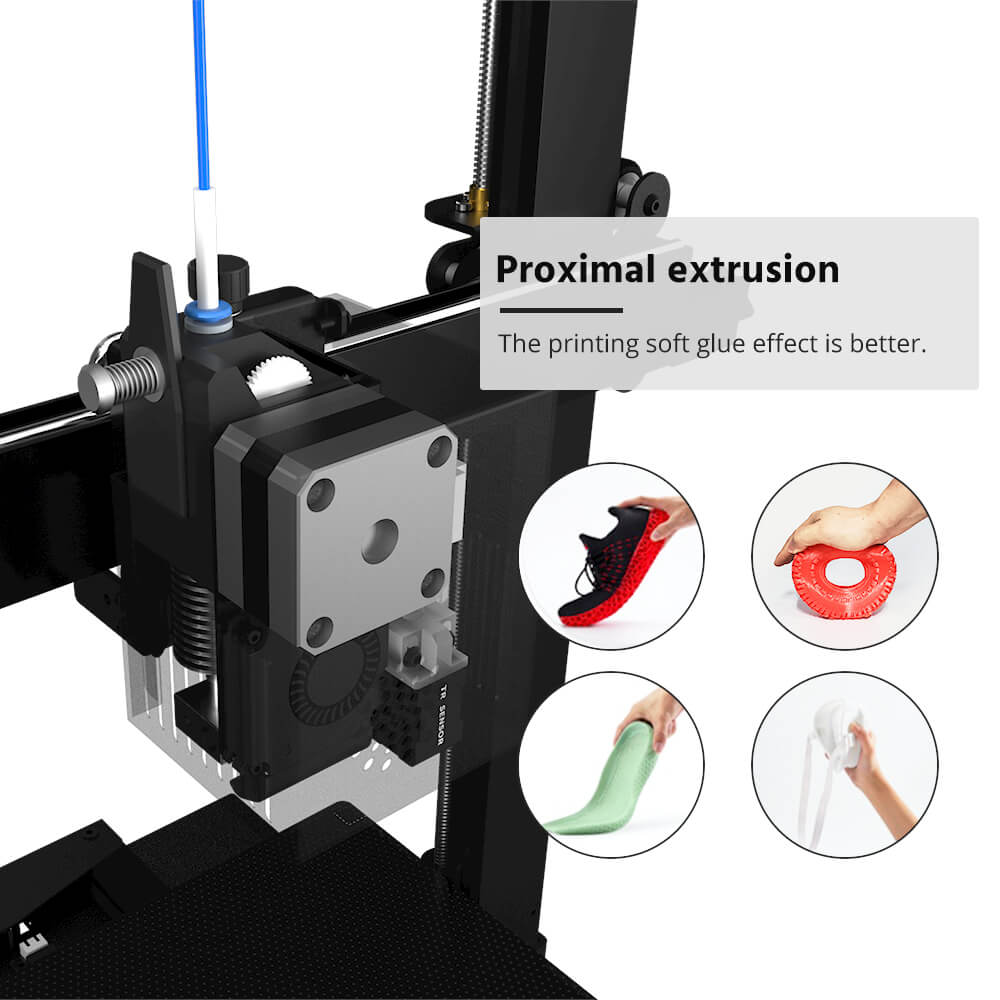 The near-end print head can print soft rubber consumables (such as TPU/TPR), and is not limited by the type of consumables (TPR consumables are a kind of rubber that is softer than TPU).
The feeding distance is short, the resistance is small, and the torque requirement of the stepping motor for extrusion is small.
The extruder and the nozzle do not need to be connected with Teflon pipes and pneumatic connectors, which reduces failures compared with remote extrusion.
Filament and Teflon pipes have a certain degree of flexibility, and the general pneumatic joints also have a certain amount of movement space, so the required withdrawal distance and speed are greater, and the short-distance extrusion and withdrawal are more accurate.
The distance between the extruder and the nozzle is close, and the material change is easier.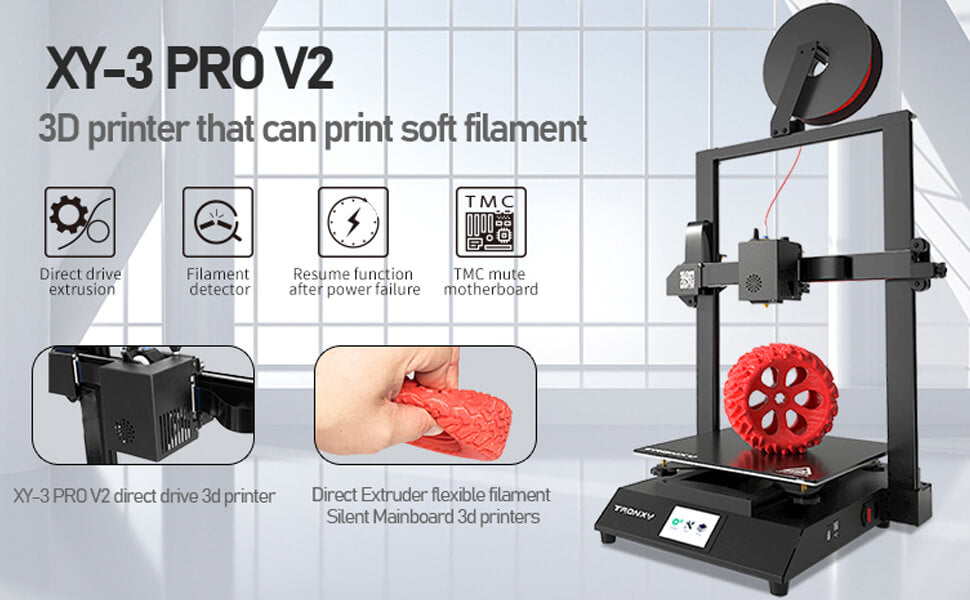 Tronxy XY-3 Pro V2 Direct Driver 3D Printer Extruder DIY Kit 300x300x400mm
United States