Tronxy XY-2 Pro 2E Titan 2 IN 1 OUT 3D Printer Two Colors DIY Kit 255x255x245mm
Holiday Notice
Some orders may be delayed (Jan 14th - Jan 28th)
read more
Holiday from January 14th to January 28th, so some orders may be delayed during this time.

- Some 3d printers in the warehouse, order parcels can be shipped and you can get your 3d printer within 2 - 5 working days as the usual delivery time. The tracking number will send within 1 - 2 working days after you place the order.
- Some 3d printers are out of stock at the warehouse, will ship your order after the holiday. The tracking number will send when the parcel dispathced.
- All parts and accessories will be shipped after the holiday. Tracking number will send when parcel dispathced.
Coupon: $66 off code 66OFFNOW
Delivery
Ship from local warehouses see all
United States: delivery to United States
United Kingdom: delivery to United Kingdom
Brazil: delivery to Brazil
Germany: delivery to Europe
Canada: delivery to Canada
Australia: delivery to Australia
Russia: delivery to Russia
China: delivery to other countries
Tronxy XY-2 PRO-2E 3D Printer, Single-Color / 2-Color Printing Maximum Print Size 255x255x245mm, Easy to Assemble Quiet Drive Power Failure Recovery 2 Titan extruder Function for Home Education
About this dual color 3d printer:
【Maximum Shaping Size】 255x25x245mm print size can be used by home, school, and enterprise. XY-2 PRO-2E 3D printer is a semi-finished product of DIY and is easy to assemble. Customers are completed by tightening a few screws. 2E is equipped with an instruction manual, installed video, test filament, and slice software, which is also very convenient for beginners.
【Rapid Heating】 XY-2 PRO-2E is equipped with a DC 24V360W power supply. The AC terminal has two voltage options: 110V and 220V. Customers can be adjusted freely. Hot bed temperature can rise to about 120 ° C in a short time. Please reduce the waiting time before printing.
read more
【Two-color Printing】 2E is equipped with two TITAN extruders and one nozzle, and a simple two-color model can be printed. Users can try different two-color combinations simply by using slice software, and can create models more creative. Two color settings need to be aware of the following two points: Others are basically the same as single color. Nozzle switch pull-in distance ≥ 60 mm, nozzle switch retraction speed 70 mm / s.
【Upgraded Silent Mainboard】 Tronxy X5SA 3d printer comes with upgraded silent Mainboard, allowing for quieter and more precise printing performance.
【AFTER-SALE SERVICE】 TRONXY offers a lifetime technical support and will be able to respond within 24 hours and we will definitely provide you with satisfactory answers.
Product Details
Tronxy Prusa I3 FDM-Dual Color 3D Printer 2-IN-1-OUT 3D Printer DIY Kit XY-2 PRO-2E Titan
Fast Assembly Quick Installation Auto Leveling Continuation Print Power Filament Sensor Full Color Touch Screen 255mmX255mmX245mm

2-In-1-Out
PEI Sheet Build Plate Magnetic Base Hot Bed Sticker
Two Filament Entrances
Fast assembly
Rapid heating
3.5 inch touch screen

Single cable design
Wearble pulley
Double fans extruder head
Auto leveling
Adjustment nuts
Filament run-out detection
Resume print after power-off
DIY assembly machine
Aluminum frame
It is more suitable for some enthusiasts with 3D printing experience to buy. Of course, if you are a DIY enthusiast or a beginner who is willing to spend a lot of time to assemble and learn 3D printing, you can also choose to buy.
Single Color/2 Color Printing
XY-2 Pro-2E 3D printer has two TITAN extruders and filament detectors.
Two racks support two-color printing: 2E is equipped with two TITAN extruders and one nozzle, and a simple two-color model can be printed. Users can try different two-color combinations simply by using slice software, and can create models more creative.
Power-off save and resume function to avoid subsequent waste of power-off.
Material break detection, language prompt will be given when printing consumables are used up.
XY-2 PRO 2E 3D Printer Features
Support two-color printing and single-color printing.
Two feed supports and one nozzle to realize extrusion printing mode.
Quiet motherboard, won't make a lot of noise.
Easy installation, modular operation.
XY-3 PRO-2E PRUSA I3 3D Printer with Dual Extruder
Large Build Volume: With a build volume measuring 255mm x 255 mm x245 mm, you can build large projects with more ease.



Dual Color Printing Double Injection One Nozzle
The dual extruders can support 2 colors of filaments printing Edited by slicing sofware, you can choose different color layering Mode and dual color printing.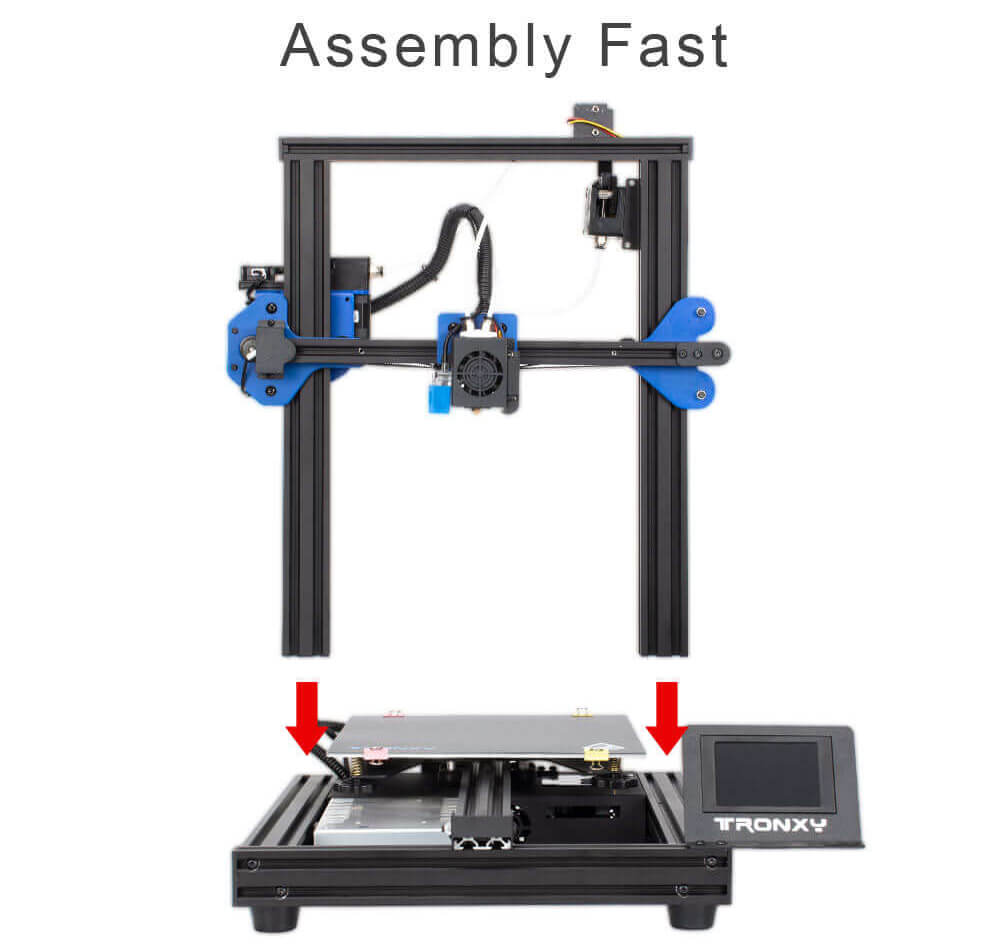 XY-2 PRO-2E Fast Assembly Quick Installation
Two-part in packaging, quick installation in one step.



Resume Print After Power Off
Afraid of interrupting printing after a power outage, the XY-2 PRO-2E has the function of resuming power off Connect the power to continue printing.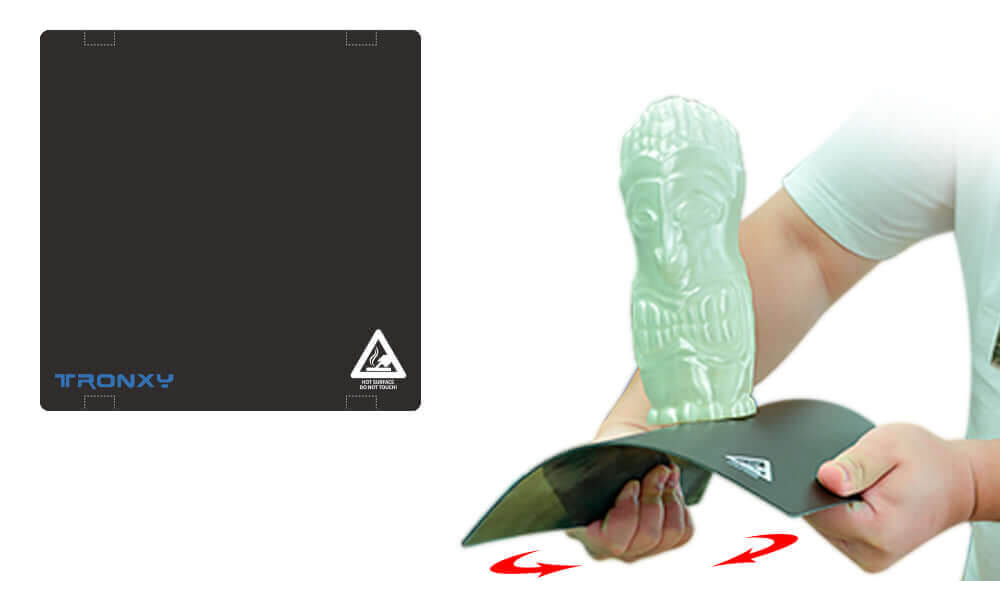 Removable Panel
Easier to take off the model.



Mute Motherboard
TRONXY silent motherboard adopts german imported TMC ultra-quiet motor drive chip ultra-quiet system design. So that the machine ls always running at low decibels.
Specification:
Slicing-Software Cura / Repeater-Host
Anschließbare SD-Karte und USB-Datenkabel
Positioniergenauigkeit X/Y: 0,00625 mm, Z: 0,00125 mm
Heißbetttemperatur 100℃
Düsentemperatur Max 275 ℃
Druckfarbe 20 / 30 zweifarbig
Nennleistung 360W

Ausgangsleistung 110V/220V AC, 50/60HZ
Druckgeschwindigkeit 20-100 mm/s (60 mm/s wird empfohlen)
Druckgröße 255*255*245mm
Stützfilament PLA, ABS, TPU, HIPS, WOOD
Maschinengewicht ≈9,5 kg
Paketgewicht ≈13kg
Verpackungsvolumen 510*480*230mm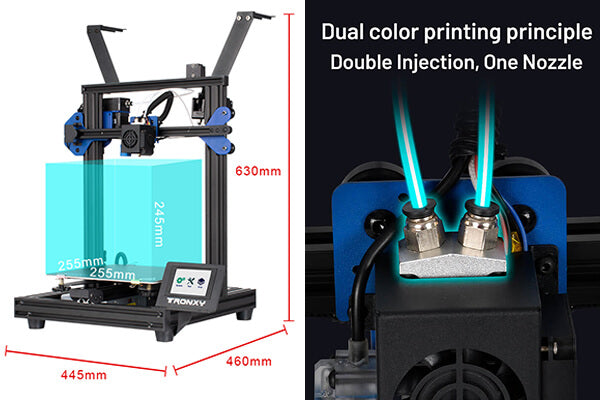 Tronxy XY-2 Pro 2E Titan 2 IN 1 OUT 3D Printer Two Colors DIY Kit 255x255x245mm
United States